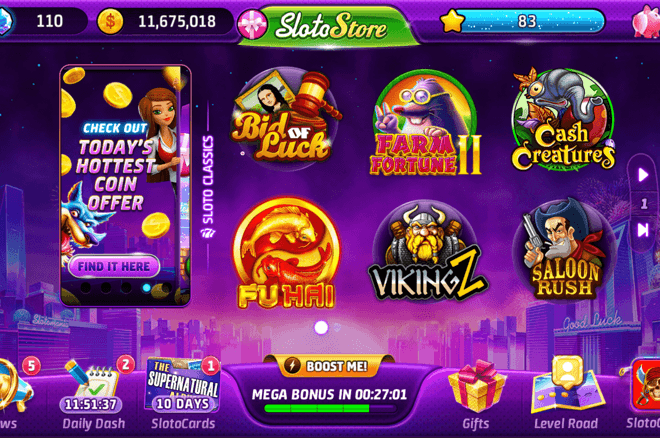 Are you wanting to decide which classic slot you should immerse yourself into? Are you wanting to win even more through a range of ways to play? This is the perfect article for you!
In this article, you are presented with the 10 classic slots which you can indulge yourself in whilst having the potential to win even more coins.
Bird of Luck
Playing across the 30 different lines, bringing the valuables to the forefront of this slot is the theme of Bird of Luck.
Presenting you with a wide range of betting options, the Bird of Luck ranges from 60 coins all the way through to 2.4 million coins – ensuring that this classic game can be placed by anyone.
Through each spin, this will increase your chances of completing the daily dash and leveling you up even further throughout Slotomania – whilst being able to utilize the different games available to play!
Additionally, if you're wanting to complete a quest or other objectives, you can also automatically spin to be able to advance your wins and the number of spins you take.
Farm Fortune II
Whether it's through the theme of farmyard animals or different foods to grow, the Farm Fortune II gives you an overall farm theme to visualize as you spin to win!
In the midst of playing throughout the 99 lines within this Farm Fortune slot, this brings another advantage of being able to win even more throughout this slot.
Additionally, whilst you're playing this slot, there are two more ways to win. In the major jackpot, through by the barn symbol 4 in a row, this is when you'll win the current jackpot of 29,997,000 coins.
However, in the grand jackpot, this is where you can win the big prize. If you get the barn 5 times in a row, this is when you'll win more than 300,000,000 coins.
Cash Creatures
Throughout the slot, there is a range of symbols that you need to focus on to be able to win even more. In the midst of the Bonus symbol and the WILD X3 symbol, these are just some of the symbols you can utilize for more coins.
Playing across the 40 different lines in the slot, this presents another way to win even more coins across the different reels in the slot.
Ranging from the maximum play of 2,400,000 coins all the way down to 40, this is another slot that enables anyone to play across a range of bets.
Fu Hai
Are you wanting a classic slot that presents you with even more prizes? This might be the slot for you to indulge yourself in.
Presenting the four tiers of which you're able to win, you are able to gain a jackpot across: mini, minor, major, and maxi.
Additionally, if you play across the maximum total bet of 2.4 million coins, you're able to win between 91.2 million coins and the maxi jackpot of over 6,000,000,000 coins!
Playing across the 243 different ways, this Fu Hai slot has a range of ways to play and includes even more diverse ways to win through Luckyland classic slots.
VikingZ
Taking you all the way back in time, presenting you with a really tough battle, through the display and visual representation of the Vikings, this is one you could look at frequently and immerse yourself into!
Introducing the ways of playing across 25 different lines within the VikingZ slot, this gives you the way to win through the range of symbols being presented within this Luckyland Slot – including the usage of the wild symbol.
So, in this slot, why not spin through the ages, earn even more coins, and level up on your journey to improve your rankings across Luckyland – whilst also playing across a range of bets on VikingZ.
SaloonRush
Through the chances of winning which you're able to play for and obtain, playing across the 35 lines within the slots, is one of the ways to earn many more bonuses.
Whether it is leveling up your daily dash, quests, and challenges, or just improving the number of coins you've gained to continue playing on Luckyland – the Saloon Rush slot can do all this for you.
Although, it depends on your level, at level 82, you are presented with a maximum total bet of 2.1 million chips. If this hits one a method to win through the lines, you'll be able to win millions of coins!
Beee
Whether you're playing and immersing yourself into the Bee slot, or another slot across the Slotomania Classics, for each spin and win, this will contribute to the clan which you're able to join.
Through presenting many more bonuses in the clan, this will enable you to gain more prizes, coins, and level up potentially even faster than you have before!
As you play across the 30 lines which are presented on SlotoClassics, you need to watch out for the bonuses which you have the chance to win. If you hit this, this is where it is available to win millions of coins!
Goddesses of Troy
Playing across 40 lines, throughout Luckyland Slots, you can utilize the slots such as Goddesses of Troy to be able to improve and level up their road to Slotocity.
Throughout the stages, as you continue to grow, this will give you more bonuses, including coins, to unlock limited items. Through the limited ability, you can be one of the few with certain cards and points in your clan.
Ranging from 40 lines you're able to play across, and the bet you make from 40 coins to 2.4 million coins which you're able to play with and use to grow upon.
All-Star Christmas
Introducing a wonderful, festive Christmas, through the mistletoe, Christmas cookies, and many more presentable festivities – this is your way to really celebrate Christmas.
Throughout the 50 different lines, you can preview the different symbols which are offered to play across and win even more coins to continue the immersion across the Christmas period.
As you level up through each spin which you play across, this will enable you even more bonuses and ways to continue your progress across Luckyland Slots!
Diamond Life
In the midst of the rich and wealthy lifestyle, you can see the different ways and different symbols which are presented to ensure that you join the club of being even richer.
Throughout the many ways, 243 to be exact, this presents the advantages of winning many more coins and levelling up through the range of bets which you can make!
For those who have started to level up and grow their account to unlock even more slots, you are able to bet millions of coins within the Diamond Life to potentially win millions more coins!
Where Can You Play the SlotoClassics?
Do you want to get involved in some of the classic slots and really immerse yourself? Now you can! This is the time to level up, grow your coins and so much more without spending a penny!
When you sign up and start playing through Luckyland Slots, when you join through PokerNews, this is the space when you can start to really play free slots to win prizes!